Yes, sleepyhead, you're going to have to wake up at 6am to get that $3 subsidised hawker meal.
And yes, in the first few weeks, it was easy to get. But not now.
During the early weeks of February, whilst everyone was still recovering from the post-CNY food coma on Friday mornings, I diligently ran (yes ran! And sometimes rode my bicycle to make it faster) to get the $3 off.
I reached at 730am, but still got the rebate.
Not now though.
For the past 2 weeks (between 3rd to 10th March), whenever I've ordered my favourite bak chor mee, and gone into my history, hoping for that little cashback that will make the $5.50 meepok just a little cheaper, it's not happened.
That's when I realised.
Now people know.
Yes, even the boomers.
I'm not kidding.
Just last week, I was queuing up when I saw this balding uncle take out his phone, and scan the QR at the hawker store.
The worst thing?
He was in front of me.
Damn!
Lest this degrades to a catfight over $3, this article hopes to help you ease a little about what you need to do to get that $3 cashback, but more importantly, whether it's worth it.
Firstly, DBS have really done their marketing well.
And that means that you've to be a little more kiasu, and get there early.
Much earlier. You need to probably reach latest by 637am.
Is it worth it?
I think it is.
Waking up to the sound of crows (not lovely chirping birds), at 6am, just to get that cashback, has been something I've looked forward to every Friday morning.
It's a little perk me up.
But that might not be the case for you. You might not be a morning person, and that means you might find it a little ridiculous to wake up early just to get that $3.
Then don't.
No, the Fully Redeemed sign hasn't worked, at least on my iOS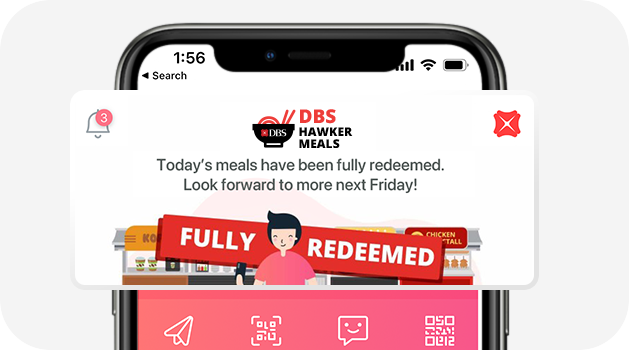 DBS reports that you'll know from the DBS PayLah app, that the $3 meals have been fully redeemed, from the top of the screen.
But it hasn't worked for me.
You won't know whether you've gotten the cashback, until you actually go into your transaction history.
Buy a proper meal that's above $5 first, and not some cheap coffee
Treat yourself to something great this Friday. Don't buy some cheap coffee, because you are only entitled to the cashback on your first transaction.
So if you buy a $1.50 coffee, and try to buy your next meal at $4, you will only get the $1.50 cashback (if you're the first 100,000).
Do we really have to resort to this?
You might think this sounds crazy. That 100,000 meals are redeemed before 7:30am.
But it's a sign of the times.
Of rapid inflation, and people struggling to make ends meet.
People trying to get a little discount here, and racing to get another discount there.
And everyone trying their best to survive.
One tip?
Reduce your standard of living, rather than your standard of life.
It's something I've learnt from an entrepreneur who's lived in many different countries over COVID, on less than $500 a month.
Even in Singapore, you can do the same. You may not have to spend that $18 on a fancy restaurant meal, but you could spend $8 on some reduced-to-clear cooked food items from Cold Storage at 8pm.
It goes much further.
It's just about whether you're living a life to fit societal expectations, or your own expectations.
Think about it. When you spend that $18, is it because you want to, or because you need to?
It's not whether you can afford it, but whether it's worth affording.
The more you spend, the more you need to earn.
It sounds logical, but not many of us actually take this into account.
I confess.
I take home $800 per month from my business. You may yell,
Only?!
Yup. Only.
How do you survive?
Whatever my business earns, that's all I take out.
Despite taking home all of $800 per month from business each month, I don't find myself starving.
It's just a matter of readjusting my expectations of life, and recognising that a good life doesn't require:
Spending $18 on restaurants 5 times a month,
Spending on fancy coffees at $6 per latte at Starbucks,
Taking Grab or taxis (honestly, are we that tied for time?)
Going for $1400 flights to a faraway country
It's perhaps just recognising,
You don't have to spend money to be happy.
And if you do spend, then make sure it's something you want to spend on, rather than something you need to.