You're probably looking at this because you've heard about all the benefits of doing the dollar cost averaging.
How that will help you to average out the costs of investing and hopefully help you to grow your assets.
You also want to reduce as much friction as possible in investing, with the monthly investment plan via DBS Invest Saver looking like a great plan.
After all, if you went to buy stocks on the normal broker, it would be a real pain in the ass.
You would have to pick the stock.
Think about the stock.
Pre-fund your account by doing a bill payment via Internet banking.
Open your trading account between 9 to 5pm.
Buy the stock, and pay the commission fee.
Compared to the Regular Savings Plan on DBS, where you simply have to:
Sign up for the plan by telling them how much you want to pay each month.
Tada.
That's it.
But here's the question. Is it worth it?
Here's my experience.
I started the REIT ETF in July 2020
Since starting the REIT ETF, I've seen my returns to date being negative.
That's right. You can say that 2023 has not been a great market for REITs, but still, if you look at the past 3 years since inception, the REIT ETF has moved largely sideways.
A paltry 2.66% since its inception on 29 March 2017 is a poor reason to continue holding it.
When should you buy it?
Well, if you want to tease your ego and tell people you're a landlord of the most famous buildings and malls in Singapore, go ahead.
But if you were thinking in terms of pure returns, the REIT ETF also doesn't work.
The REIT ETF hedges against inflation… hell no.
But you might tell me, doesn't the REIT ETF pay dividends?
Yes, it does, but even if it does, it might not offset your losses.
You want quarterly dividends
| Year | Dividend yield | Dividend amount (USD) |
| --- | --- | --- |
| 2022 | 5.46% | 0.038 |
| 2021 | 5.1% | 0.035 |
| 2020 | 6.3% | 0.043 |
If you look at the dividends above, the yield has looked constantly attractive, at beyond 5%.
The 5% dividend could cover the costs of inflation, and the tidy dividend that comes every 3 months is a nice surprise.
But this does come at the opportunity cost of others you can choose from.
Having been painfully bitten, here's what I'd suggest.
Is there a better way?
By far the biggest reason why people choose to buy ETFs through monthly savings plans, is because you:
Don't want to have to think about your investments
Don't want to have to do monthly adjustments to your investment
You don't have the time to constantly pick and switch
The huge growth in index funds thus stemmed from these pains.
But in Singapore, this does not work as well because the STI ETF does not move much.
Pick individual REITs that outperform
Of course there are certain REITs that outperform, and which may be at a price discount currently.
Using a filter like Stockopedia, we filtered out the top-ranked REITs in Singapore and then compared them.
What we found was that REITs like Frasers Logistics and Commercial Trust (FLCT), and Paragon REIT, continue to present good value for money.
But our money still continues to be put into FLCT because we really like the manager, in Robert ('Rob') Stuart.
He has moved a lot of the properties to logistics assets, which present as easier opportunities, compared to the changing face of the office market today.
The rise of trends such as remote working have made it difficult to make a greater yield on Grade A office assets.
The sale of Cross Street Exchange in Singapore, which Rob shared was an offer they 'couldn't refuse'.
The Cross Street Exchange transaction achieved a sale price of $810.8 million representing a 28.3% premium to the property's book value of $632.0 million. Although this was an opportunistic development, it did align with our portfolio rebalancing strategy.

Annual Report 2022
It's a good buy still, at its current $1.30.
If you still want to buy the index
If you want to access the US index funds such as the S&P500, you can only buy them from the SGX. The one I recommend is:
Vanguard S&P 500 ETF (VOO)
It has the lowest expense ratio of 0.03%.
The problem?
You have to buy it through your broker, such as DBS Vickers.
Can you still do a Regular Savings Plan (RSP) for a ETF?
Well, here's a hack.
Use a recurring buy on Syfe Trade
A recurring buy on Syfe Trade could well work.
The only thing is that Syfe can't extract the money directly from your account.
You have to prefund it.
One way around this, is to set up a standing instruction to Syfe Trade every month, just before the recurring buy happens.
From my experience, even after business hours (9 to 6 on weekdays), the money has appeared within 15 minutes on Syfe Trade.
If there's no money, the transaction just won't go through.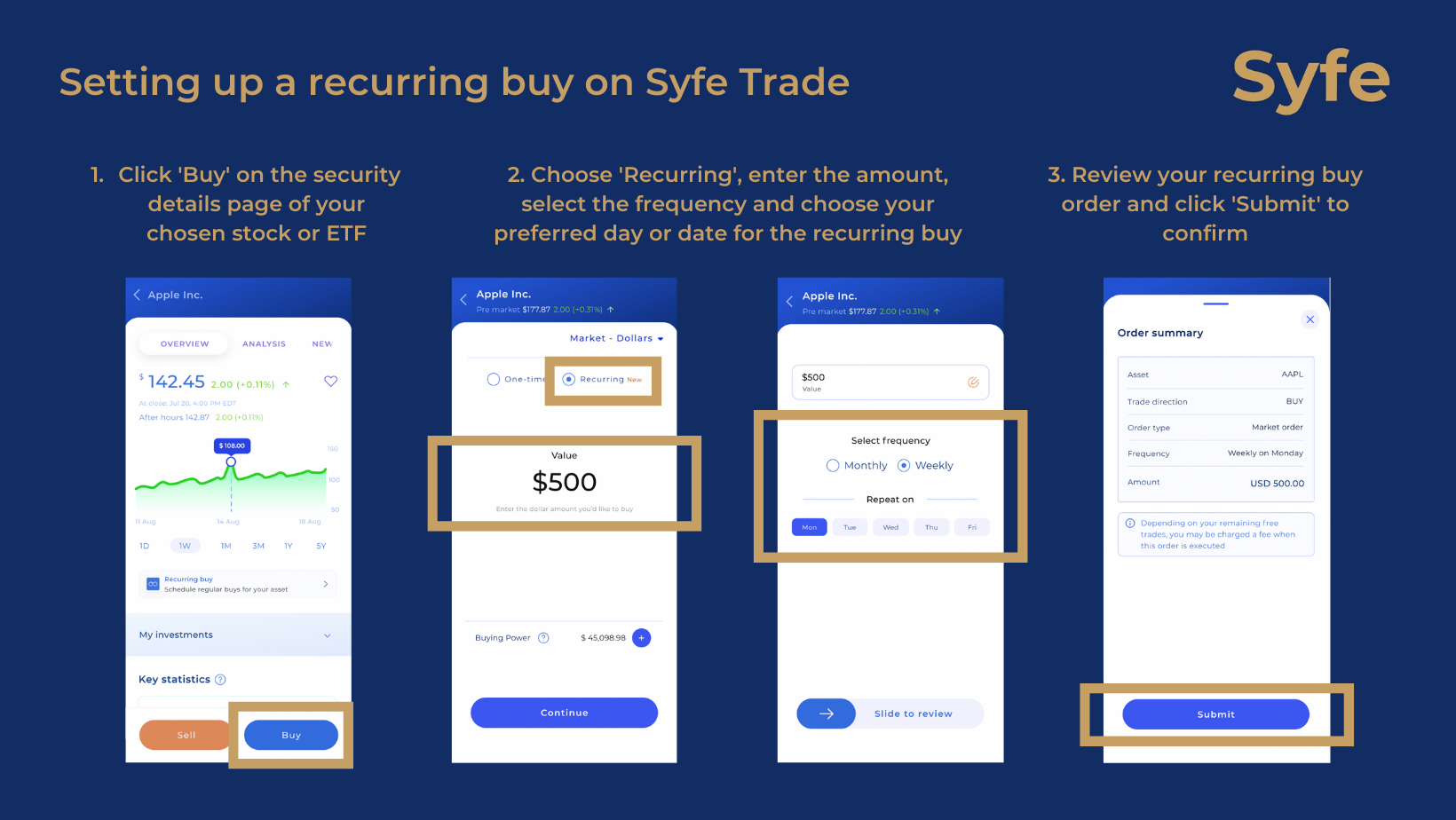 Learn to quit
But by far the biggest lesson, is learning to cut your losses if they don't work out.
Rather than forcing something to happen, look at the realities, and accept it.
It can be hard to accept that here in Singapore, there's no easy lunch, and that the Regular Savings Plan just might not be that great an idea beyond just beating inflation.
Is that what you want your investments to do?
My advice is no, and that there's much better you can do with your money, beyond just beating inflation.
Start looking outside of Singapore. It might just make more sense.