Right, this is familiar.
Very familiar.
It's the fourth time I've paid for a Friendzone event, and they are still doing the same icebreakers as the first time.
Well, nothing against them, but this review is for you. Should you pay the $30 for a Friendzone event?
Friendzone sells itself on recreating the kampong spirit. Don't get me wrong. They do that well.
They started out organising void deck parties for young adults between 18 to 40, before branching out into other revenue streams after recognising that free stuff didn't necessarily keep the lights on.
Amongst some of those revenue streams today are:
Taking grants and commissions from government agencies like the People's Association or REACH to organise focus group discussions, to get youth insights into certain policies
Organising ticketed events around different groups of people in different industries such as founders, tech, marketing, fitness industries
But let's get into the meat of it. Is it worth paying all that money, when $30 can be used for other things?
The first time I paid $30, I thought there was going to be at least some fancy food. At least a chicken rice.
Nope.
All they throw you is a bunch of Mentos sweetes on your table, before leaving you to the facilitator and the conversation cards.
For those that were held at Crane in Claymore Connect, a coworking space, there was at least a hot drink. But for the most recent one I attended for founders at The Hive, another coworking space, there was hot water from the dispenser and…
That was all.
Well, blame the economy.
I guess the real question is the value-add to you, attending their events. I'm guessing you're looking for a few things to be interested.
1. Friends
2. A possible date
3. Something to fill those boring weekday nights
Friendzone is explicit – they are not a dating event. They put it on their Eventbrite, say it over and over at their events,
"We are not a dating event."
Gosh. I get it. You don't have to stuff that in my face every time.
But perhaps people get the wrong idea and try to get a date from the event.
Take it from me.
I don't think you will find a date from the event.
It will be terribly hard.
Because most of the people there look like they are there to widen their social circle and have a deeper conversation. But they don't look like they are there for something with commitment.
Ah, the big word.
Commitment.
Well.
It can be repetitive after going once
I've gone for 4 events (find their events here) by them: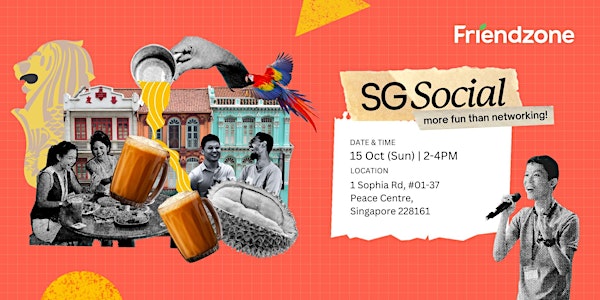 SG Social (twice)
Tech-focused
Founder/Manager-focused
And for the last 3 events I was at, all the icebreaker questions were the same. They would ask you:
Where do you live in Singapore, and split yourself according to the areas. Then they would ask you to name your favourite place.
They would ask you how your job is in terms of its pay, how it aligns to your strengths, and whether you like it.
Again, you have to split yourself accordingly and then discuss why you answered that way.
Heck, even the conversation cards we used were the same. The facilitator would get you to flip the card, and try to probe to get you to share something deeper.
I get it. I get that Friendzone is trying to scale their events, but it does say one thing.
If you've been there once, the second time may be slightly repetitive.
The question thus is,
Is there value add in you being there again?
Some may argue that it's the people that make the conversation. Because you get to meet different people at each conversation, you would supposedly have a drastically different experience.
Yes, you do.
But it beggars the question.
What happens next after the event?
On the Friendzone end, they throw you into a Telegram group, with other people you've met at the event.
Then, it mostly dies.
Occasionally people share something that they are doing in their company. Or worse, they try to sell you something.
Event-based activities are hard to make lasting friends
Friendzone started with good intentions, but they ultimately met with the social beast called 'Singapore'.
It's the Singapore where everyone is pragmatic, focused, and wondering what the other party wants of them.
It's the Singaporean within you that has the silent question 'What does this guy want of me?' when someone you don't know very well starts texting you.
It's the Singapore where most are tired out after hours of work, and passively wait for someone else to approach them.
Make no mistake. In a city like Singapore, it is crazy to try and make friends. Especially when everyone you are friendly to thinks that you're trying to sell them something or else, to date them.
What's more, the moment you're thrown into this Telegram group, the buck is on you to initiate those meetings – arrange timings, find a date, a place, everything.
Is there something better?
I think there is.
Here are some ways.
Join something that is regularly organised (by someone else)
Join me for a Meetup group that does netball. Yes, netball sounds like it's for ladies. But there are actually at least 40% who are men there. With that level of weekly commitment, you will definitely get to make friends, without having to do anything (except have fun).
Join a book club. One of the newest things I've discovered is The Saturday Book Club, which organises a book club every third Saturday of the month, and then gets members to share for 15 minutes each about a book they have read.
It's quite a great experience.
Well, if you're thinking about the Friendzone event, go if you've nothing to do on a Monday night. But the second time you go, think twice.
Because it's not just the food they don't give you.
It's just – even the dish you love most gets bland after a while.