I have 9 savings accounts. Yup, you didn't read that wrong. Nine across 7 financial institutions.
I went on a crazy search for yield
This sounds crazy, but let me lay them out for you.
| Bank account | Realistic interest rate | Purpose |
| --- | --- | --- |
| DBS Multiplier Account | 0.05% | Account for collecting dividends |
| DBS Remix E Savings | 0.25% | Legacy account, that I never got the chance to close. But why not? |
| UOB Passbook Savings Account | 0.05% (I know, don't get me started) | A current account, for monthly expenditures |
| OCBC Frank Account | 0.1% | This acts as another reserves account |
| CIMB FastSaver | 1% | I transfer 12% of my monthly earnings to act as a reserves account for my business |
| Wise Business Account | 0% | To save on FX rates when doing USD transactions for software payments |
| DBS Business Digital Account | 0% | To get paid by organisations as a business (and to look legit) |
| Marcus by Goldman Sachs | 1.79% | Savings account for U.K. pound savings |
| HSBC Current Account | 0.05% | Current account for U.K. pound transactions |
Don't believe the ads that tell you about the 3.6% interest they give on the UOB One Account, for example.
It's fake.
Honestly, are you going to have $100k in your savings account, just seated there? You will probably be better off investing it.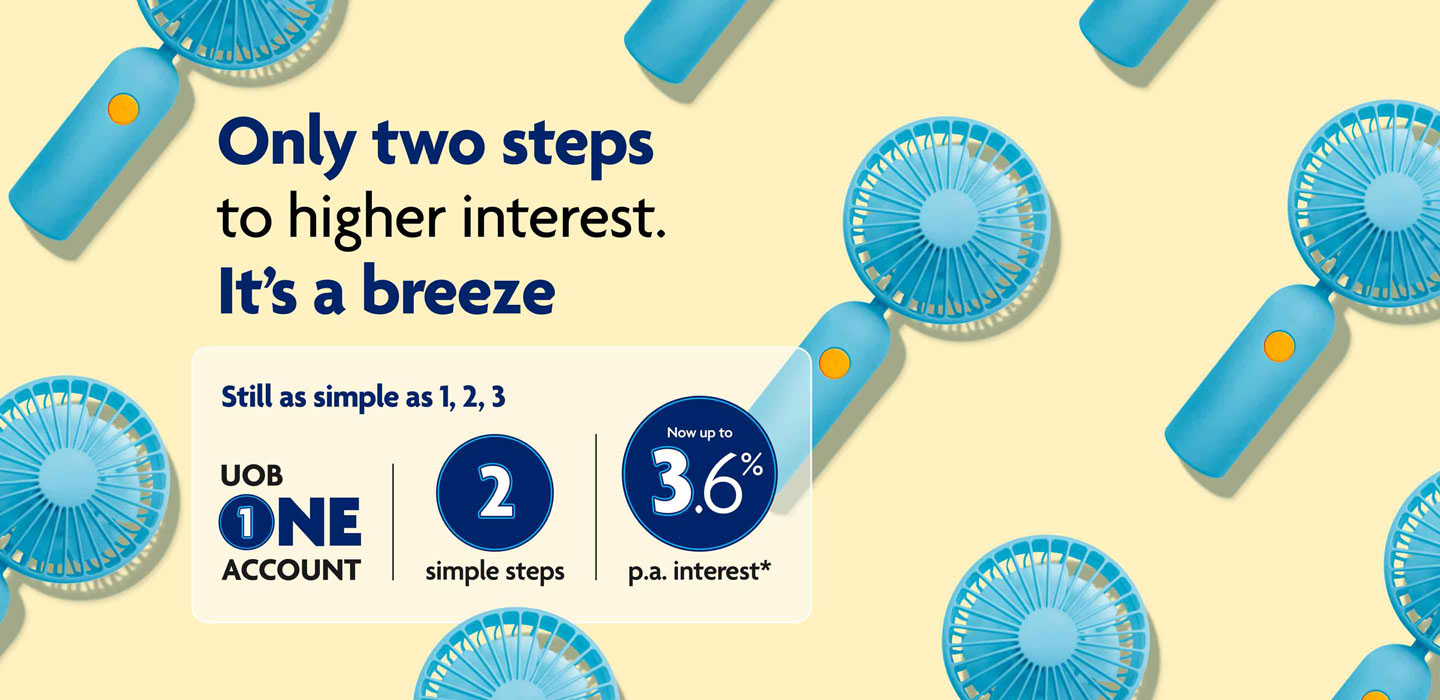 Whilst this article tries to find you the highest interest savings account in Singapore, it also seeks to highlight some other better ways.
But let's start from some core assumptions.
You earn a median salary of $3000 after CPF deductions.
You spend at least $500 each month with your credit or debit cards.
You have about $5000 in cash deposits.
How much interest, can you earn, really?
Don't go chasing the percentage points in interest rates. There's no point. Pardon the pun.
But you get the idea.
Even if the rates are higher by 1% at another bank, you will probably find yourself spending unnecessarily just to max out the interest rate.
For example, to get the basic 0.05% interest, your transactions need to total more than $2000 each month.
Whilst your salary credited can hit that easily, I don't think you should be spending more just to hit the requirement.
There's value in being frugal. 
Is there a point earning 1 more dollar with the higher interest rate, whilst spending $100 more?
Nope.
Let's assume that you have $5000 deposited. If you manage to hit the 0.9% with the DBS Multiplier Account, you will probably still get only:
0.9% annual interest rate /12 months x 5000…
$3.75.
Yup all that time trying to search for where the greatest yield, only earned you another bubble tea.
Understand the bank's point of view
The bank earns more the more you transact.
And the more money you put with them, the more money they can earn by investing, or lending that money at higher interest rates.
Thus their interest is not you. It's their shareholders, and indirectly their own profitability.
By trying to chase the highest yield interest account, and tying your cash unnecessarily by putting it in an interest yielding account, you are crippling your own potential to earn returns on your cash.
That said, what are the best yielding interest accounts?
Hands down, CIMB FastSaver
When you get to CIMB's personal banking site, don't be surprised to see an antiquated, old site that looks like the one your grandmother used.
Okay maybe not your grandmother.
Maybe your great grandmother.
Sorry. That's a joke.
I've used CIMB FastSaver for the past 4 years. Whilst the interface leaves a lot to be desired, the sheer fact is that:
They pay 1.1% regardless of amount.
But beyond that, I love that you don't have to fulfil multiple conditions like
Credit card spend
Buying their investment products
Giving them your salary
I mean, who cares about your conditions? For the first time, CIMB shows that you don't have to do any of that, and still offer the highest interest rate in town.
No frills, no nonsense.
Just pure interest. Your interest.
If you don't trust a Malaysian bank, given all the scandals, you may find DBS probably the next best option.
Whilst there are many pre-requisites to get the preliminary 0.9%, as long as you credit your salary, you should get the interest easily.
Beyond that, the interface is one of the easiest to use.
Of late though, they have chucked the kitchen sink into the banking app. You can't exactly figure out if it's trying to be a banking app, or a lifestyle app. Sure, it's more than a bank, but I need to bank first to get my bills done. Before you show me all your other 'LiveBetter', places I can donate to, please get my banking done first.
How about the UOB One Account?
I prefer this over the UOB One Account, because you need too much of an initial deposit to qualify for the higher interest rates.
But if you're someone who is already:
Paying most of the bills by direct debit (GIRO)
Already buying the family's groceries, that hit $500,
Then go for it.
But if you've just started as a working adult, then you probably don't want to be getting this account.
Don't get started on the OCBC 360 Account
And don't get me started on the OCBC 360 account.
Whilst they promise the highest interest rate in town at 4.1%, you need to spend a lot on their products.
You will start to realise that the best thing is to bank entirely with one bank.
Insure with one bank
Invest with one bank
Spend with one bank's card
Salaries into one bank
That's the best way to take advantage of the highest interest rates.
Keep it with one bank
Hunting for yield across multiple banks helps, but only if you're exploring.
Ideally, you would bank entirely with a single bank to get the highest interest rate.
But more than that, think of investing your money in other instruments. That can probably get you better returns.
It would also save you the time of having to check multiple accounts each month to understand how much money you have. Don't be like a squirrel that forgets where his nuts are.
You definitely don't want to forget where your money is. Choose one bank, and stick with it.
All you really need to do with a bank is to treat it like your lover.
Give it your salary
Spend money on it
Treat it as your insurance for life
And you will probably get on with life, pretty fine. Without chasing interest rates.