Walk into this gelato parlour, and you might be forgiven for thinking that you're back in the old-school ice-cream parlour.
Where you're greeted by an old uncle behind the counter, and who quickly asks you to try.
He will offer you scoop after scoop, without rushing you to make a decision.
Compare this to your typical ice cream parlour today, manned by the stony-faced youth who stands behind the counter, occasionally laughing at what she sees on the screen.
Don't get me wrong. Nothing against youth.
But if you touch your heart, you crave and long for the days where ice cream with waffles wasn't just about the Instagram picture you could take.
But more about the relationship you could have with your friends, in a warm and inviting environment.
But first, why bother? Especially when you can have your $1 vanilla cone at McDonald's?
And especially in a time of rising inflation, you might just think that it's more worth saving your money for something else.
| Place | Cost for classic ice cream scoop | Total cost with waffle |
| --- | --- | --- |
| Freshio Gelato, 91 Bencoolen St, #01-60 Sunshine Plaza, Singapore 189652 | $3.90 | $7.80 |
| Lofi Bar, 108 Hougang Ave 1, #01-1281, Singapore 530108 | $3.80 | $8.80 |
| Gelato Labo, 285 Joo Chiat Rd, Singapore 427535 | $6 | Not available yet |
| Creme, 124 Hougang Ave 1, #01-1444, Singapore 530124 | $4.20 | $10 |
| Lickers, 124 Hougang Ave 1, #01-1446, Singapore 530124 | $3.90 | $8.90 |
No, it's not to impress your girlfriend
If you think about the ice-cream waffle, it's actually a perfect way to share things with your friend.
More importantly, it's a time where you can hide from the heat, and have a long conversation about how life has been.
My theory? People open up after something sweet.
Sugar them up, and everyone feels better.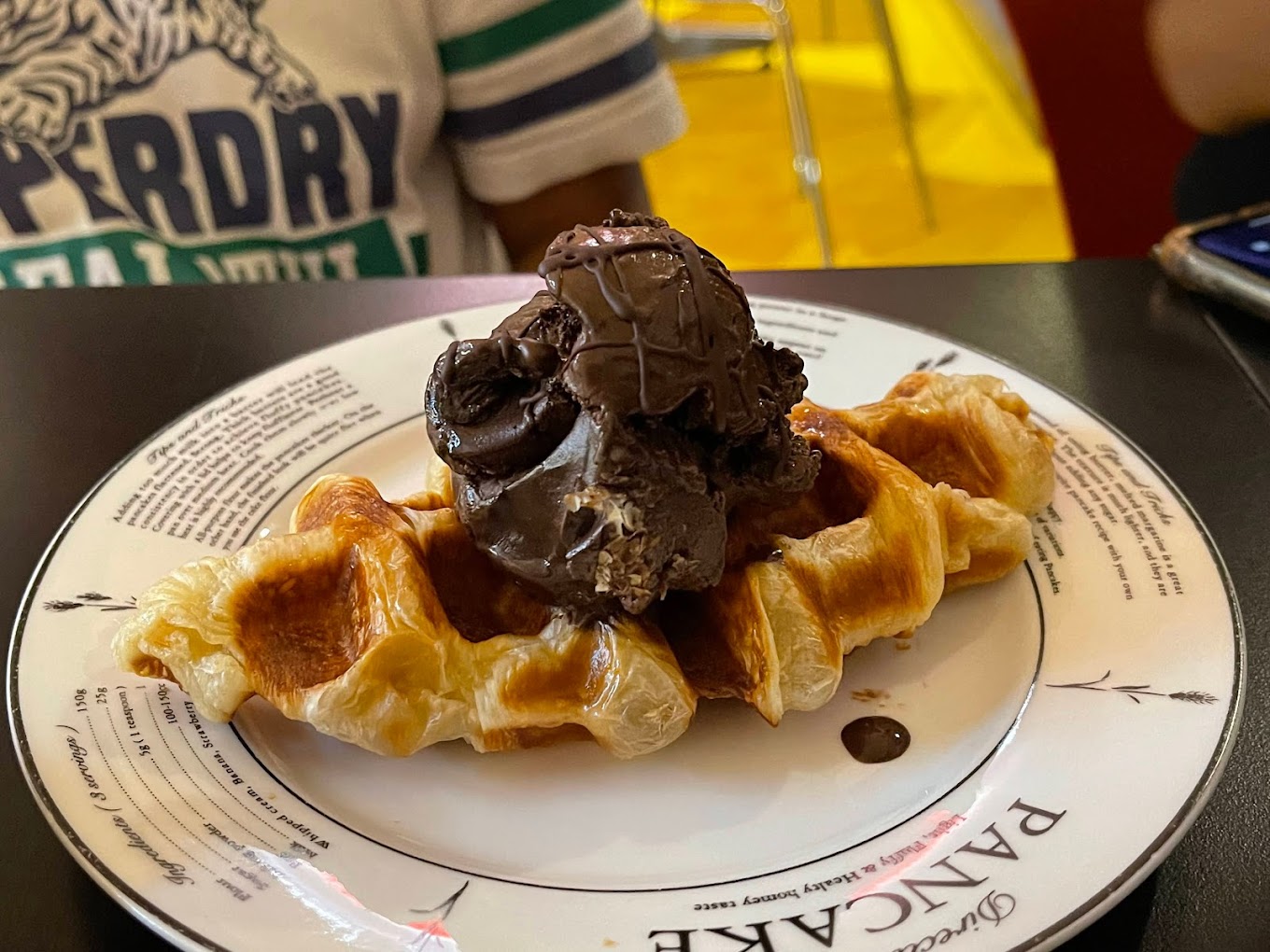 I think we've found the place.
Freshio Gelato, Bencoolen
Freshio actually makes their own ice cream. And I'm not going to lie to you and say I really understand how they make it, but I just eat it.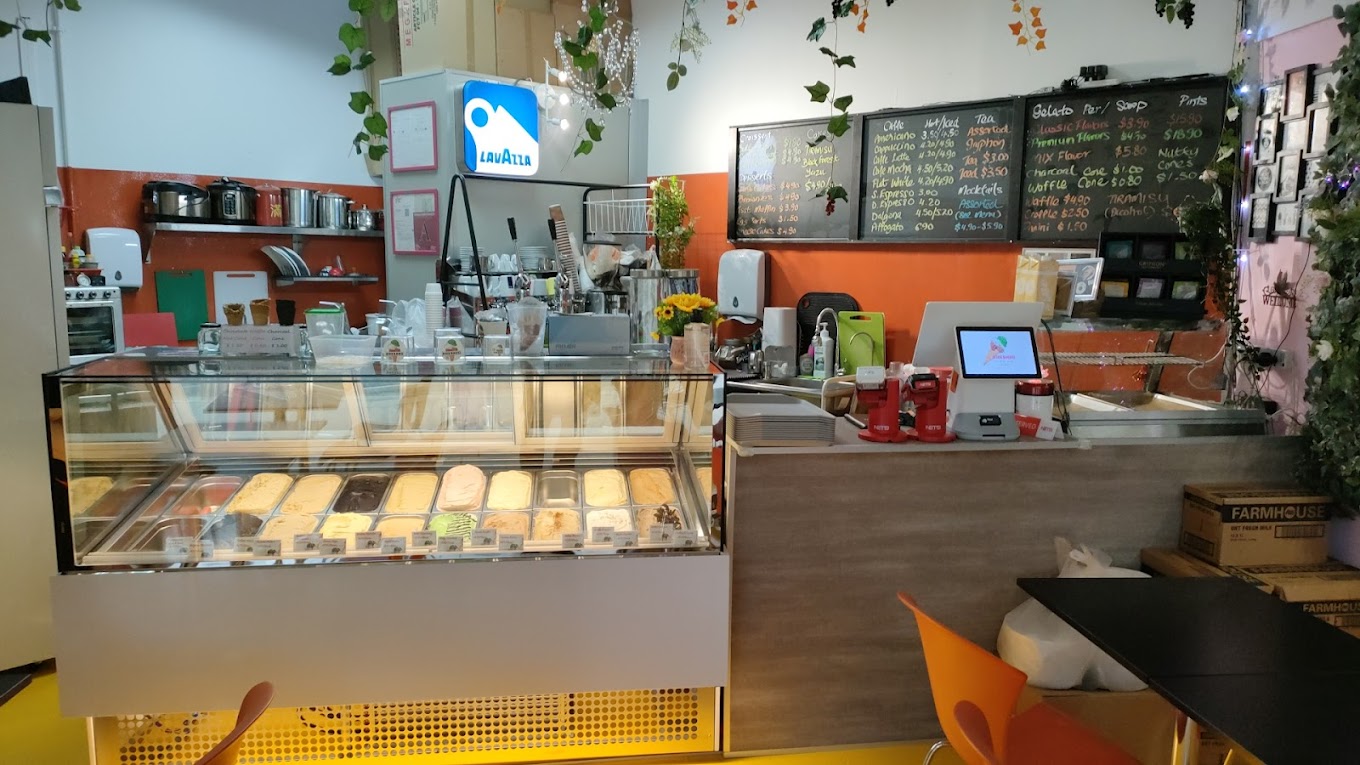 And I like it.
Here's a hack.
Don't pay for that waffle. Pay for a croffle instead.
The croffle is a mix of the croissant and waffle, and whilst it's smaller, it does allow you not to stuff yourself with ice cream, and end up regretting it after.
You will find out why that's important.
When you get most gelatos, you will see the server straining with his scoop to get the gelato out.
You will see the muscles tense, and him probably shoving the scoop at the ice cream, wondering why the scoop doesn't seem to come out. It's like digging for ice, not ice-cream.
Well, I'm kidding. But when you get Freshio's Gelato, you can immediately taste the creaminess of the milk flavour.
If you grab the croffle along with the ice cream, the mix of warm and cold, is simply heavenly.
The friendliness of the couple
You won't get fancy wood panelling like your typical Holland Village cafe, with warm lighting, for that Instagram shot, but what you will get is some real fun.
Sit there for an hour, and the aunty will start engaging you in conversation. Like what you're busy with, or if you'd like something else.
You just won't find this in your typical parlour.
Lickers, Hougang Avenue 1
Lickers has gained quite a name for itself with its playfulness. Step outside the shop, and you will see it professing that its workers are on strike 30 minutes before closing.
This playfulness does mean that it's perpetually full most of the time.
It will be hard to get a seat.
But the ice-cream is relatively cheaper compared to most other places. A scoop costs $3.90, compared to the average of $4.20 you will find elsewhere.
You even get Instagrammable shots like these.
Can you find the little clown hanging in the picture below?
It is a joy to be here, but the crowds do make it a bit of an unpleasant experience, especially when you could possibly queue up to an hour to get a seat inside.
Creme, by Lele Bakery, Hougang Avenue 1
Oh the pressure of trying to outdo Lickers over at the next door has led to competitor after competitor, that have been vanquished in the wake of Lickers' playful attitude to competition.
Show me what you got!
And so Creme, the offshoot of Lele Bakery, is the latest to challenge them.
Everything inside, is pink.
And there isn't horrid pop blasting out of the speakers, but gentle, instrumental that serves to help people actually enjoy conversations there.
For me, the ice cream is just ice cream, and I can't say it's much better (or much worse) than someone else's.
Lofi Bar, Hougang Avenue 1
Classic scoop at $3.80!
It's probably the cheapest we've found.
But if you add on the waffle, that's going to set you back by $8.80.
This place is going to be difficult to find. Nestled within the opposition ward of Aljunied GRC, this is one bad-ass place.
But you don't just get ice cream waffles, but you can get everything else too. Truffle fries… you get the idea.
Gelato Labo, Joo Chiat
Gelato Labo, does try to do its best.
Gelato starts at $5, but I'm not sure it's the cheapest gelato you'd probably find in Singapore.
Only if you want a fancy Instagram shot
Prices start at $5 for a single scoop.
Because they are newly open in March 2023, they also don't currently offer any waffles.
They do promise it's coming!
You can't try the flavours too. So you should probably make sure that you're there on your lucky day.
But you get to sit in Joo Chiat, with a background of sweet Peranakan houses.
Cramped seating
Seating is cramped inside, where everyone wants to get away from the heat.
There's only one table, 3 chairs, and a bench for everyone to sit.
Outside, there's fans, but in this current heat, you probably won't feel much cooler outside too.
If you want to find cheap waffles, Freshio is the place
Nope, I wasn't paid to write this.
But rarely do you pay $6.40, and get people who are genuinely interested in you, and not just your money.
If you compare, the average ice cream with gelato is going to set you back by $7. But here, it starts at $6.40.
You would probably be hard-pressed to find a better place.