3 best places beyond Teo Heng to sing your hearts out
我没想到为了你我能疯狂到~ I sing my hearts out as I belt out my high notes and am fully immersed in singing my favourite song,光年之外,  from my favourite singer, G.E.M. As the light dims and the accompaniment cuts to the next song, I then go onto a full-fledged Eric Chou song medley and transit to singing his iconic sad love songs, 永不失联的爱,你不属于我,最后一堂课 etc. just to name a few of my favourite songs from Eric Chou.
Enough talking about my karaoke habits for now! The reason behind why I'm writing this article today would be to provide 5 other karaoke outlets you can head to apart from Teo Heng (not saying that there is anything wrong with Teo Heng!)
A little bit about myself
To provide some context, if you haven't already realised by now, I LOVE singing. If you ask my friends, they'll find me singing at the most random moments, it's almost as though I'm singing at every moment, be it waiting for my bus, when I'm walking or when I'm in the showers etc. 
Singing to me is more than just a hobby, I treat it as a form of expression, I find myself being able to express myself through a song, expressing what I feel when I can't do so with words. I'm able to interpret the song in my own way, pour in my emotions and deliver the message behind what I feel each song is about. In particular, I also enjoy analysing the meaning behind each song and each set of lyrics. 
As someone who often goes for karaoke sessions, I'm sharing this as someone who loves singing and hope that you can share the same joy I do when I go for karaoke sessions, be it with our friends or on your own!
What I look for at karaoke outlets!
(i) Great Ambience
THIS, to me, would really be one of the top priorities that I look for! Having a nicely decorated room allows me to be fully immersed in the experience, live in the moment and just enjoy the moment and vibe with the song. 
Come on, let's face it, we are all there to have a good time, so having a nicely decorated and aesthetic room would definitely be a plus point for the outlet!
(ii) Quality of sound system 
One other criteria would be the sound system! I mean, if the sound system doesn't work as well, then there is no point in me going to karaoke outlets anymore if I can do what I do there at home!
 Having a good sound system allows me to feel like an artist performing at a concert, being able to belt my notes, flaunt my vocals. A good sound system would also mean a clearer and louder song backtrack and accompaniment, allowing me to live in the moment and appreciate other's performance and when it's my turn, put up a good performance and enjoy the experience  
(iii) Price
For an avid karaoke lover, price would definitely be one of my concerns, so that I would not break the bank while trying to hone my skills in singing. 
While I understand that Teo Heng is definitely one of the most, if not the most affordable option, I tend to allow myself to treat myself a little and splurge a little bit more, while ensuring it is not overly excessive, for the experience!
I tend to find karaoke outlets on the more affordable end, or to find time during weekdays to go to these outlets, since prices on weekdays are a lot cheaper than on weekends! One other tip is to go in larger groups with my friends so that the cost can be split among more people!
(iv) Location
For someone who does not live in the city centre, location would definitely be one of my considerations! I tend to look for outlets which are near the city centre so that I can cut down on travelling time! If I am meeting a group of friends, finding an outlet at the central location would also be the most convenient for everyone! 
Alternatively, I pick out karaoke outlets which have many outlets which are all over Singapore so that you can choose one which is the most accessible to you and head over!
Here's 3 places beyond Teo Heng where you can sing your hearts out
Have Fun Karaoke (嗨翻)
With multiple outlets at Somerset, Yishun, Toa Payoh or Downtown East etc, Have Fun Karaoke offers 76 themed karaoke rooms, with spacious rooms which fit 6 to 30 guests! 
Have Fun Karaoke has a huge cloud database with over 450000 songs, professional lighting and sound systems, thematic rooms and state-of-the art displays, allowing you to sing your hearts out! 
Prices differ for different outlets but you can check them out at: https://havefunkaraoke.com/
   2. K Star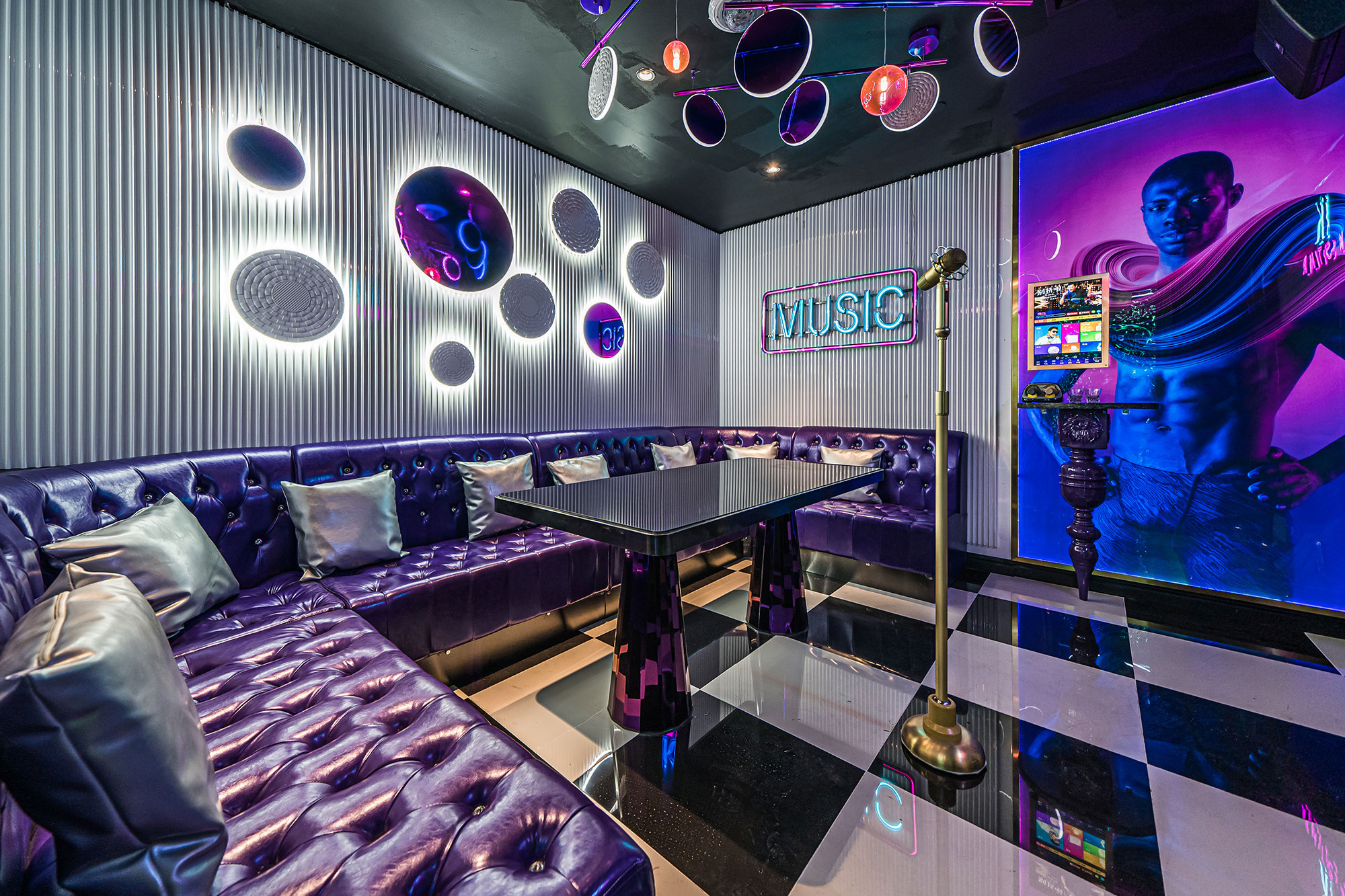 K Star is Singapore's best themed karaoke outlet, with their novel concept featuring fun, nicely-decorated and aesthetic rooms, with attractive room decorations and lights and sound system, allowing you to get in an upbeat and playful mood, let loose and sing 
K Star currently has 2 outlets at central and accessible locations, namely Plaza Singapura and Orchard Central, both of which offer competitive rates and an experience that is to be remembered for a lifetime!
Check them out at: https://kstar.com.sg/
    3. V Sing
Live out your best Mandopop dream at V Sing, newest addition to Singapore's Karaoke Outlet, where you can take the stage and perform live for audiences. 
V Sing combines the social attributes of a bar, complimented by seamless digital-driven interaction, concert level stage effects and competitive atmosphere of singing activities!
While there is only an outlet currently, the facilities are comparable to many of the other karaoke outlets in Singapore! We can't wait to see what more V Sing can offer in the future! Find out more at: https://vsing.sg/home
What's next?
After hearing what I have to say, you might still choose to head back to Teo Heng and there is absolutely nothing wrong with that! I hope that the criteria I have listed above will be able to help you choose your cafe in one way or another!
But what's more important is that you go to one which helps you maximise your experience, one where you feel that you truly belong and feel most comfortable in!